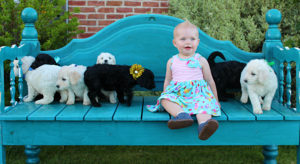 CHECK OUT OUR FACEBOOK PAGE FOR THE MOST RECENT UPDATES ON OUR LITTERS!
We are now accepting nonrefundable $300 deposits for our upcoming litters! We look forward to adding a furry puppy to your family!
F1B Sheepadoodle Puppies
Lucy and Raygun had a beautiful litter of F1B Sheepadoodles on December 28, 2018! Check out these handsome male pups! All puppies are sold, but ask us about our future litters!
<?php do_action('slideshow_deploy', '1202'); ?>
F1 Sheepadoodles
F1 Sheepadoodle babies are due the end of March/beginning of April! Ask us how to get on our list!
Make a nonrefundable $300 deposit to reserve your spot on our wait list!